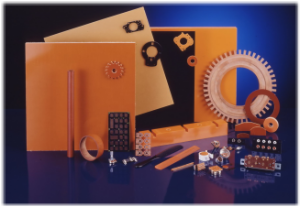 From resin reaction, impregnation of paper or fabric, weighing and building up, hot pressing, fabrication, packing and inspection, to warehouse stock,phenolic laminates are produced with unique heat resistant, flame resistant, acid resistant and electrical insulating properties.
Our phenolic laminates have a thickness range from 0.2mm to 100mm, and a wide range of dimensions suitable for all applications. Syndyne's thin-type (<2.5mm) phenolic laminate can be used in hot-, warm-, or cold-punching; while thick-type (>2.5mm) phenolic laminate can be easily processed by various methods, such as sawing, planing, milling, lathing, grinding, and drilling etc.
All these phenolic resin laminates/rods/tubes, PCB back-up boards and other industrial plastic materials have received the UL certification, passed the SGS testing and in 2006, attained ISO 9001 quality standard certification.