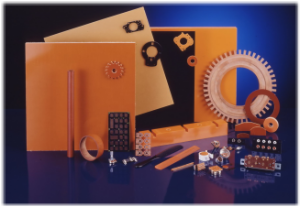 Laminate, by definition, is a combined material made up of two or more layers bonded together with essentially no intermingling at the interface. It is held together by appropriate binder and then compressed under controlled temperature and pressure. The main elements include resinous binder and reinforcement, and additives may be integrated to modify the laminate in order to achieve some specific properties.
Due to different moulding and process methods, laminates may come in the shape of sheets, rods and tubes. Laminated sheets are the most prominent form. Moreover, one can match and make different types of resinous binders and reinforcements to create tens of different specifications of laminates for a vast range of applications.
Common reinforcements include: kraft paper, cotton linter paper, cotton fabric, woven glass fabric, glass fibre mat, Nylon cloth and carbon fibre cloth etc. Common resinous binders include:
phenolic resin

, melamine resin, epoxy resin, unsaturated polyester resin, silicone resin, polyimide resin, and polymeric resinous binder etc. A unique industrial laminated sheet can be a combination of different types of reinforcements according the special specification required.
Phenolic resin is the oldest type of polymeric resinous binders known, with the widest range of applications. In fact, amongst all polymeric materials, phenolic resin binder based injection moulding material – so called "
phenolic laminate

(powder)" – is the earliest applied and fully synthetic product. "Phenolic Laminate", phenolic resin binder based laminate, the first type of laminate mass produced industrially in history, is manufactured by Syndyne with our superior skill and technology.
Phenolic resin products have been around for over a century and are still not dated since their first development. This is because of their unique possession of heat resistant, acid resistant and exceptional electrical insulation properties; as well as resistance to wear, ease of processing and excellent mechanical properties.
In recent years, environmental issues keep being raised. Finding the balance between environmental protection and industrial development has become a global concern. Phenolic resin decomposes easily and has a low impact on pollution, and has thus attracted much research interest into its many applications. We can foresee in the future that phenolic resin based products will be even more valued and have many wider applications.
Should you have any query regarding environmental issues in this respect, please do not hesitate to contact us!